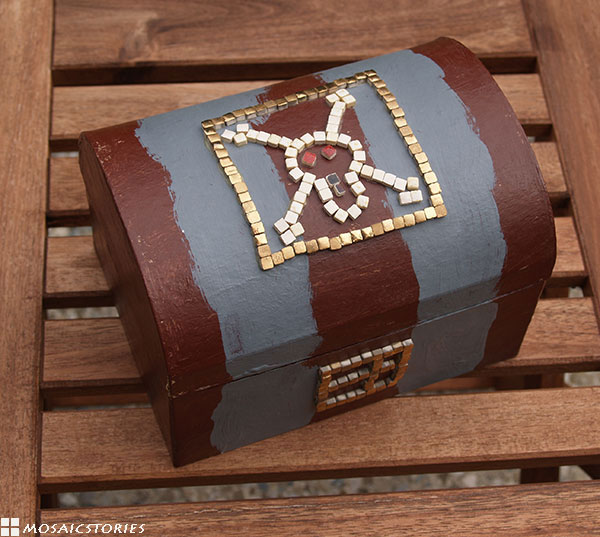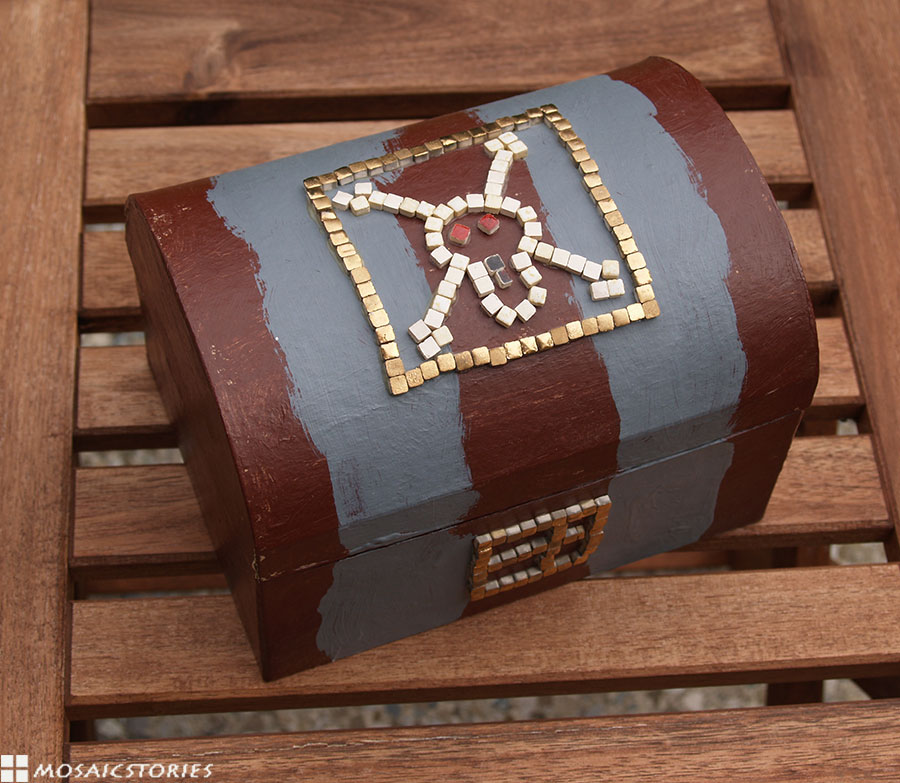 The treasury chest was one of my very spontaneous ideas when I browsed a small creativity fare in Munich.
As a matter of fact it was a Matryoshka set of three treasury chests: a bigger chest containing a smaller chest which contained an even smaller chest.
The first chest gobbled up some of my everyday jewellery, while the second chest immediately was claimed by my younger son, aged eight at the time.
And of course he would not want it bland as it came, he wanted it to become a true treasure chest where he would safely stow away his most cherished objects.
Painting was too ordinary. He leered at the new golden mosaic tiles. It had to be them, and the symbols he intended to depict on the chest were obvious too- after all nobody should touch his treasure chest – not ever!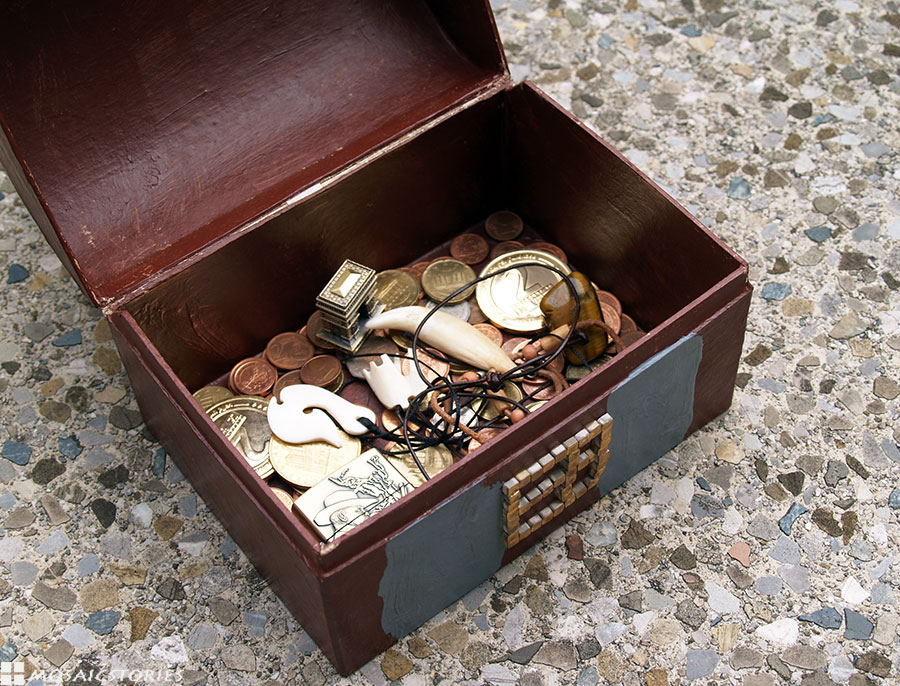 At the time Alea had just released the new "Gold Series": Micro tiles the size of 5x5mm with a genuine  carat gold plating.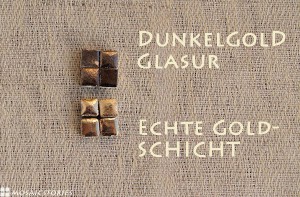 After glazing the tiles they received a vaporized layer of gold. Having the gold layer above the glazing gave the tiles a very unique true golden look.
However the inevitable surface abrasion with many works can pose a problem and so the Golden Series is only manufactured for very special projects on demand.
The standard tiles have black gold and dark gold colors which are protected by the glazing and still do come very close to the Golden-Series, bar the risk of abrasion in high-contact environments.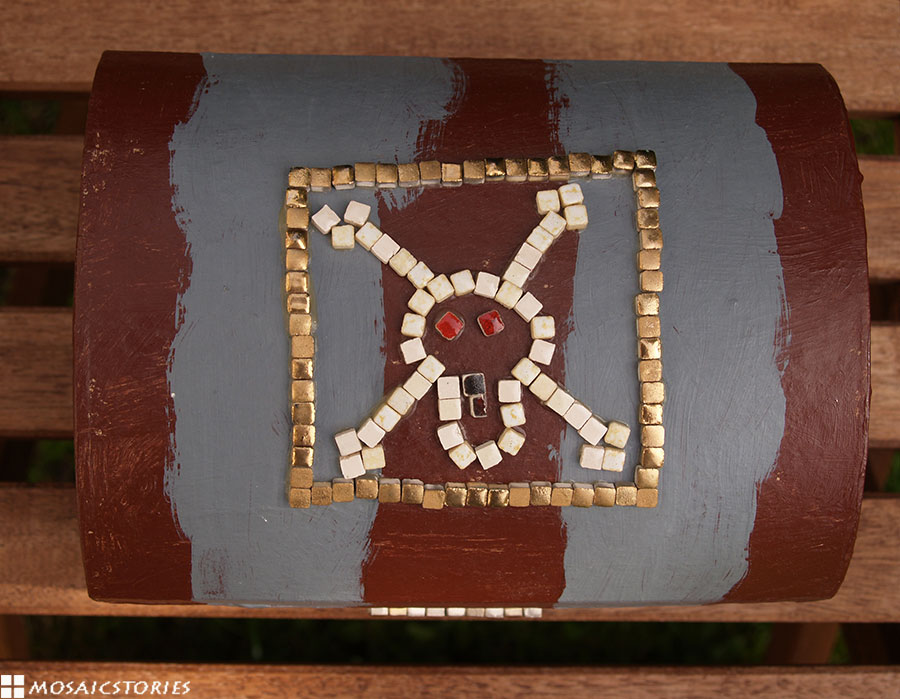 Done in one afternoon
Material:
Our son's treasure chest consisted of simple cardboard and measured 18x14x12cm. The paint was standard acrylic and the glue UHU Kraft – solvent-free all-purpose glue.
Working Step: 
Start with painting the chest on all surfaces. This gives it additional protection.
Then you can draw your chosen pattern with a pencil or, as my son did, visualize the pattern and glue the mosaic tiles directly onto the box.
Ensure that you only apply a thin layer of glue onto the tile.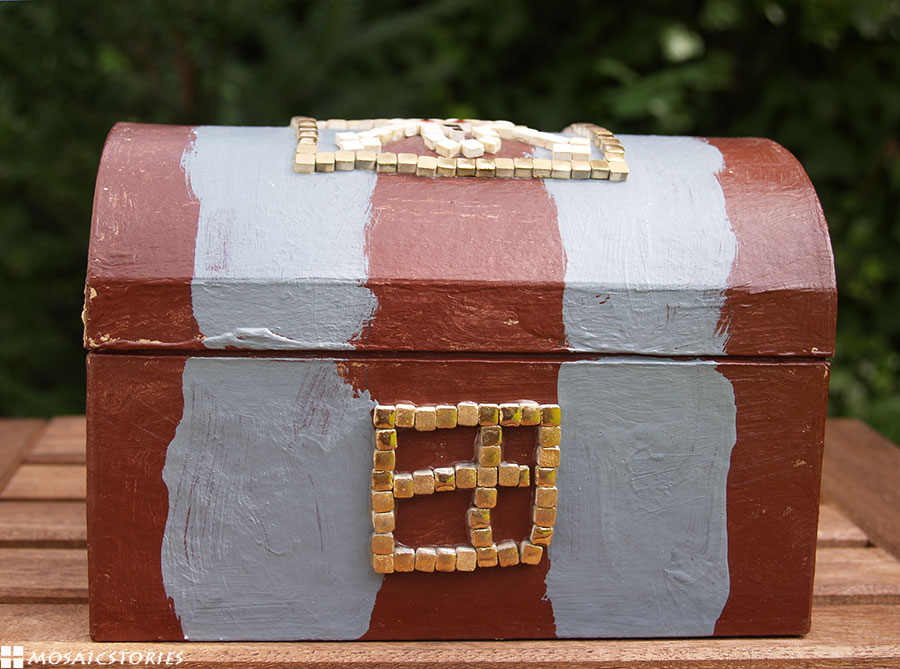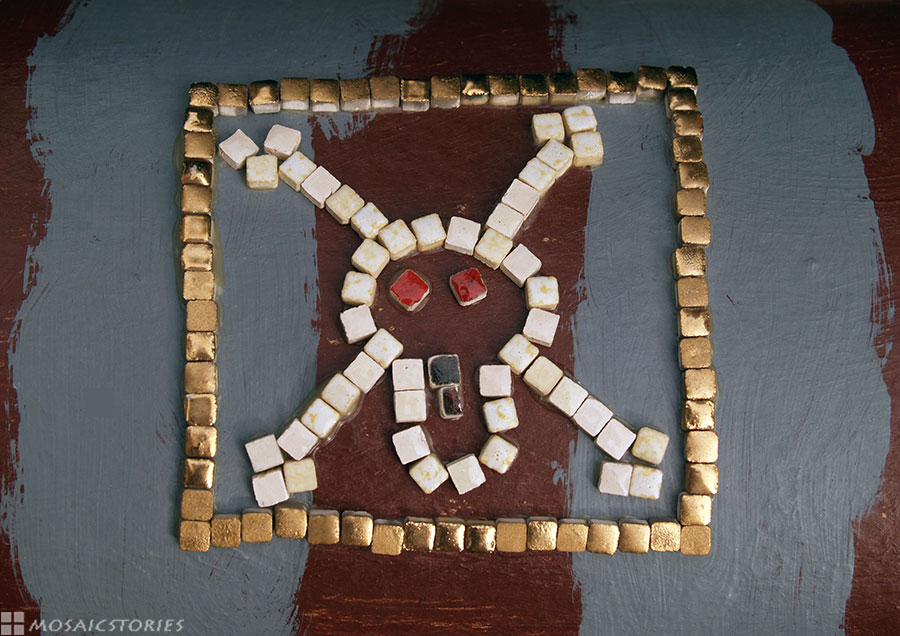 Variations:
Of course one can delve into the creation of very elaborate decorations and materials, where colored glass nuggets are glued to the lid and the sides, reflecting precious stones and where the inside is lined with felt, velvet or other fabrics
Our son still treasures his treasure chest and keeps it in a special place. We don't know what he keeps inside but it certainly is valuable to him.
He is very much aware that the decoration consists of the Gold-Series stones. And of course it is his unique piece of art created from his own vision and with his own hands.
The immaterial value of your own piece of art which can never really be fully explained only felt.
But what actually happened to the third of the matroyshka chests?
We gave it to our neighbor's girl for babysitting our little Cavalier-King-Charles-Spaniel. She still keeps her jewellery in her little treasury chest which of course she decorated to her own liking.
Florence